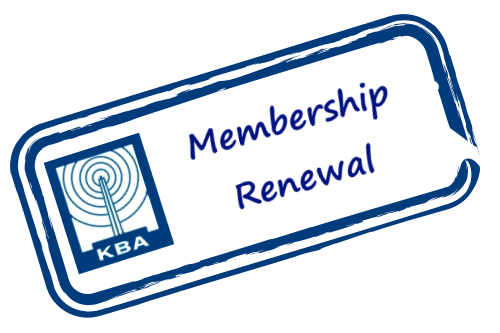 As a reminder to all of our valued KBA members, the KBA annual membership dues do not supersede stations playing the PEP spots.The KBA would like to thank all of those that have sent in their KBA membership dues for the 2017 year. We sincerely appreciate all that you do for the KBA.
New Associate Members! The KBA is pleased to welcome Gabe Hobbs of Gabe Hobbs Media and Dennis Smith of DennisSmith.com as our newest KBA Associate members.
Membership does offer a lot of tangible benefits. We urge you to renew today, deadline is March 31. You do not want to miss all of the great benefits the KBA has to offer. In 2016, the KBA expended over a million dollars in benefits and operational costs for you, our members.
As a reminder to all of our members, the PEP Pledge form does not supersede any membership dues. If you do receive a dues renewal invoice and also play the PEP spots, we sincerely appreciate you. Our association would not be able to provide any of the myriad of the membership benefits that is does without the PEP program.
If you have not received your dues renewal form, please contact the KBA office at kba@kba.org.