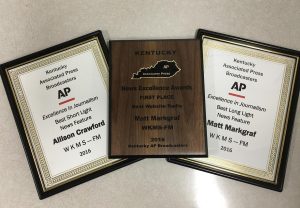 The 2016 Kentucky Associated Press Broadcasters Awards Presentation will be held on Saturday, April 29 at the Hilton in downtown Lexington, recognizing the best in television and radio journalism in Kentucky. The deadline to register for the banquet is Monday, April 24. The cost is $55 per person. No walk up registrations will be accepted. The event begins with a reception at 5:30 PM, followed by a dinner and the awards presentation at 6:30PM.
FREE WORKSHOP: KAPB and the Kentucky Broadcasters Association invite professional and college journalists to attend a storytelling workshop on Saturday, April 29, with Kentucky native Al Tompkins at the Hilton from 9 AM – 3 PM.
The workshop is no charge, but seating is limited and available on a first-come, first-served basis. Lunch will be provided, courtesy of the KBA.
For a list of finalists and details about banquet registration, the storytelling workshop, and the group hotel rate, go to
http://discover.ap.org/contests/kentucky-broadcast
The deadline to book at room at the group rate is Tuesday, April 11.
Please contact Julia Versau at jversau_contractor@ap.org with any questions.