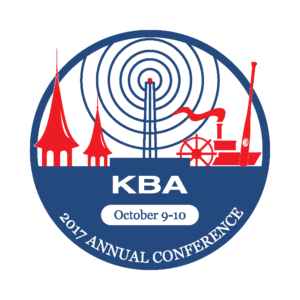 2017 KBA Conference
Galt House Hotel
Louisville, KY
October 9-10, 2017
Join the Kentucky Broadcasters for the 2017 KBA Conference at the Galt House Hotel, October 9-10, 2017. We are currently accepting lodging and conference registrations for this event! You may register online or download and email to karen@kba.org.
Registration deadline is Friday, September, 1, 2017. Please note after this date a $100.00 registration fee will apply per attendee. Please register early, as we want to see YOU in Louisville.
We have a lot of great events planned including a bourbon tour, cruise on the Belle of Louisville, educational sessions covering lobbying, FCC regulations, sales, staff safety, engineering and so much more! Peruse the exhibits to learn about the latest and greatest technological advances in the broadcast industry.
Tuesday, October 10 will culminate into an evening of awards and splendor. Following the awards dinner, a KBA after party is scheduled. Remember, lodging reservations must be made through the KBA. Check back for weekly updates! Deadline is September 1, 2017!