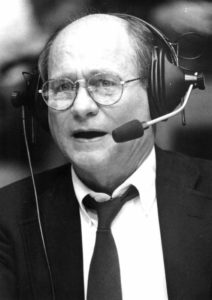 The legendary voice of the WKU Hilltopppers, Charles Wesley "Wes" Strader passed away Tuesday evening at the age of 79.
Born in Barren County, his childhood was spent living and working on the family farm. He graduated from Hiseville High School, where he was an avid football and basketball player.
Strader's association with WKU sports goes back to the late 1940s when, as a 10 year old, he began regularly attending athletic events with his father, a season ticket holder.
Strader spent 36 wonderful years ( 1964-2000) as the voice of the Western Kentucky University Hilltoppers.
In 2002, Strader was inducted into the 2002 Kentucky Athletic Hall of Fame. On February 21, 2013, Strader was honored from his WKU alma mater when WKU unveiled a banner in his name. The banner hangs in the E.A. Diddle Arena. To date, Strader's is the only banner in the Diddle Arena that is not of a player or a former coach.
In 2008, Strader returned to the mic to host a Hilltopper pre-game and post-game call-in show. Many times, former UK All-American Basketball great, Kenny Walker was Wes' co-host on the program. It was until late 2017 that his health declined and the show stopped production. Strader's legacy will live on in the Bowling Green community and at Western Kentucky University. In its third year, the "Wes Strader Schoolboy Classic" basketball tournament will take place.
The KBA family extends its deepest condolences to his wife Sue, daughter Kim and son Chuck, two grandchildren, grandson Wes and granddaughter Kara and great granddaughter Olivia.
A visitation will be held on Monday, January 16, 2018 from 2pm to 8pm CST at Eastwood Baptist Church located at 500 Eastwood Avenue, Bowling Green, KY 42103. Additionally, funeral services will be on Tuesday, January 16, 2018 at 1:00pm with a visitation at 10am until time of service at Eastwood Baptist Church, 500 Eastwood Avenue, Bowling Green, KY 42103.
________________________________________
"A kid can only dream to grow up and be friends with one of his heroes. I was blessed with getting to do this with Wes. I will miss voice and his smile, but more than anything I will miss his friendship." I know I speak for so many in saying how much we will miss him. I will forever hear him say "Good night sports fans."
Derron Steenbergen
KBA Past Chair
________________________________________
"Even though I, personally never worked side by side with Wes, I did have the opportunity to talk with him numerous times about high school players across Kentucky who were excelling in football in his area. We, sometimes, talked for hours about the future of high school sports. In addition, my sidekick for 30 years in calling Henderson County football on the radio was Leo Peckenpaugh. Leo was a former all OVC quarterback from Western in the early 1970s. Wes filled me in on Leo's past and the same for other sports greats from the Henderson area who played at Western. Leo has been doing color for Western on the Big Red Network for over 15 years".
"Our friend Wes, no doubt, was a positive influence on many young people at the high school and collegiate level at Western. In closing, Wes loved Kentucky broadcasters. Up until very recently, Wes would join us at the KBA Fall Conference. Wes was more than a sportscaster. Wes was a broadcaster and he will be sorely missed by all who knew him."
Henry G. Lackey
KBA President/ CEO